Coffee, cows and bare hills..
..the land was an old plantation, surrounded by pastures. There were a couple of buildings standing; the workers-housing, a grain storage.. even a former classroom, build for the children of the owner, who otherwise would need to visit a school in the nearest town - Bom Jardim.
Shortly after Johan & Rose bought the land, they started to several constructions and the reforestation process. Adaptions to pre-existing buildings were made. The former workers-housing was enlarged to accommodate future students of the educational centre, a library and meditation hall were build, and the grain-storage became a green-house with a dining area beneath. The old classroom was divided into carpentries and other workspaces, a second level was added becoming the family´s home and Johan´s office. Once the construction of the tower was accomplished, the place obtained its characteristic silhouette, that is still prevailing nowadays.
The former logo designed by Johan, depicted a tree in a drop of water. The graphic representing Tiba for the last decades, symbolises the reverberations of that first drop's impact, spreading in the four cardinal directions.
The jequitibá-rosa in the midst of the reforested valley.
Tiba from Tupi where many.... background
" Two levy persons, a paintress and an architect, started getting all types of trees from the state government and planted them along with other plants on the abandoned grass-fields.
Nowadays, a dense forest is all around us. And what type of trees! Towering imperial palms, the beautifully shaped silhouette of the brazil tree, giant bamboo bushes.. not to speak of all kinds of flowers, huge insect eating ones and others with fascinating odours.Then there are the fruits, all sizes, colours and tastes. These fruits, of course, have attracted and brought back many birds, including tucans and parrots.
Of course, we did not do all the planting.. just the beginning. Most was done later by the wind, birds, bats and insects. Nature knows quite well how to do it. "
You want to know what paradise looks like?
Start planting trees..
– Johan
You want to know what paradise looks like? Start planting trees.. – Johan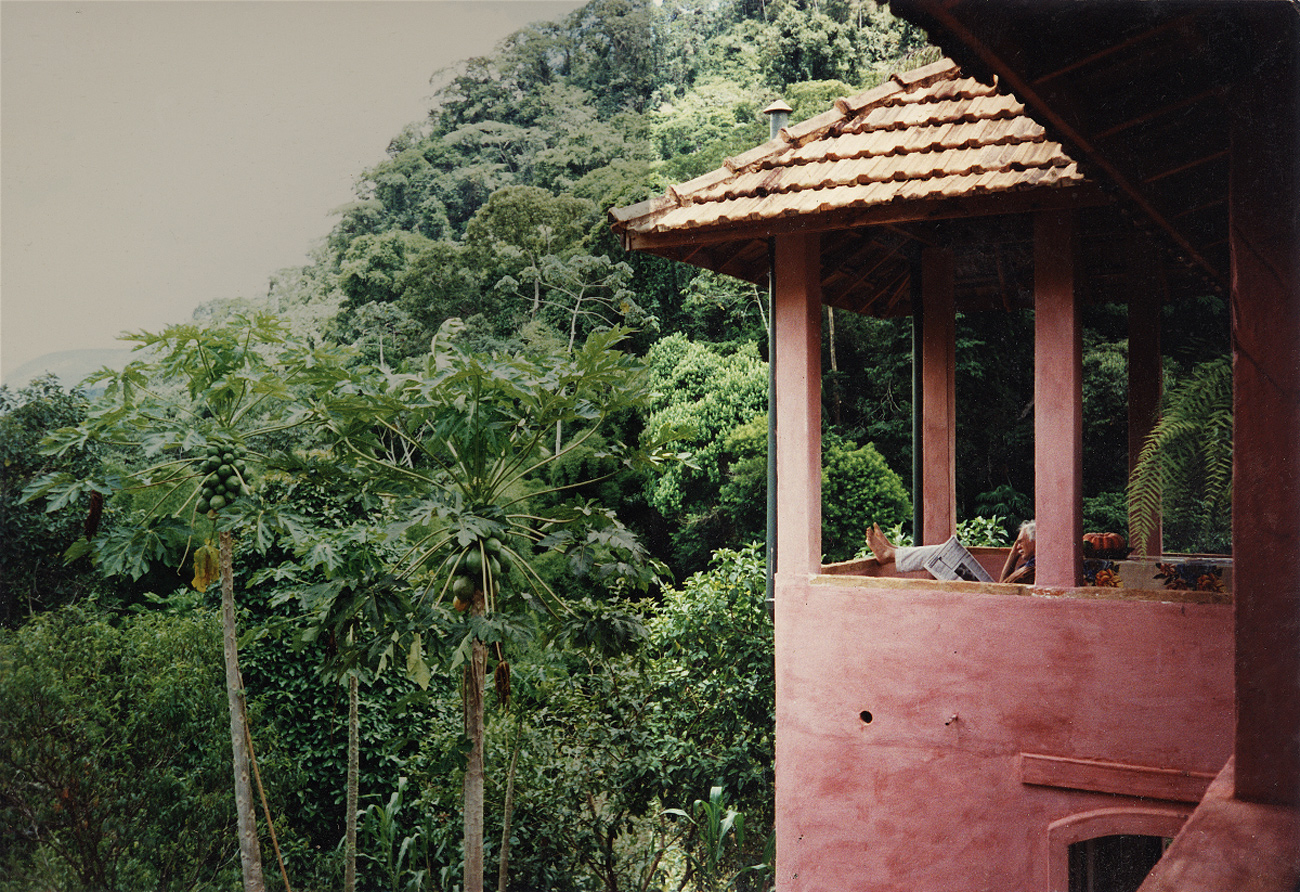 With the unexpected amount of students participating in a developing program of workshops, the alternative school had to adjust through new work and living spaces, new collaborations, specified courses and architectural consultations.
Nowadays the institute is again going through a period of exciting growth and change. As fact, if the Institute is seen as a type of thermostat for measuring the intensity of an underlying social movement in the last decades, both nationally and globally, namely one of environmental concern, it can be read a good sign.
An educative catalyst of mans inherent crave for regaining a sustainability of his ones own being, in midst of that only environment, only space, only life.. oneself is, was, and always can be, dwelling in. That would be of good conduct..