TIBÁ has welcomed hundreds of apprentices over the past decades. Many after concluding their period, continued to work with us, developing various projects here on site, or went on to start new collectives and centers of bio-construction (e.g. LowConstrutores, Adama..) or permaculture, extending our circle of collaborators and even reinforcing our teaching forces during monthly workshops.
We offer the apprentice program as a space for experiencing alternative life/work models and generating knowledge on sustainable living, all in contact and balance with the natural surrounding. Each individual should feel free to enjoy what the place itself has to offer, and cherish the time to study, design and experience.
TIBÁ offers continually 6 apprenticeships, for a duration of 4 weeks. You are working with us 8 hours a day from Monday to Friday. Saturdays and Sundays, are reserved for the practices of individual projects or/and recreation. We receive apprentices for work in construction, maintenance and the general growth of TIBÁ, attending to all those who are interested in experiencing our lifestyle and participating in our collective adventures.
Our apprentice program is not a course and we do not provide any formal training or instruction per se, no defined schedule is applied (beyond specific project-schedules) most of the activities will happen according to the current needs. Roughly each month a workshop is held in TIBA, all apprentices are granted to take part in it, though a readiness to help out with the heightened maintenance and organization needs is expected.
In case of a candidate deciding to participate in the Apprentice Program, a cost of 1000.00 R$ is to be covered, referring to alimentation and lodging for the first 4 weeks of stay.
Candidates should carefully read the "TIBÁ Apprenticeship Program" (below) and send their Curriculum Vitae with a photo and letter of intent that clearly describes why they would like to participate.
This letter should include possible information on any experience in construction, conservation, community work, volunteer work, ecology, renewable energy, permaculture, agroforestry, bio-architecture or related branches and/or any skills that might be in their opinion beneficial to the institute: contato@tibario.com and we will send you by e-mail the registration form of the TIBÁ Apprentice Program and the Term of Responsibility.
Work and living policies:
Older than 18 years (exceptions are allowed for 16+ with a letter of consent from both parents).
The apprentice period is 4 weeks.
Once becoming accustomed to work-schedules, apprentices can be responsible for some specific tasks and help with the organization of work.
We have a routine of activities related to cleaning and maintenance that concern all those living in TIBÁ, whether permanent or temporary; these activities are shared among the collective and can change from week to week.
Apprentices help with everyday household tasks, such as finding firewood, preparing food, work in the gardens (from planting, harvesting and preparing meals) and general cleaning.
On weekends the pre-cooked meals will be self-served.
The work expectation is 40 weekly hours distributed in 5 days a week, and it might be occasionally necessary to work on Saturdays (until 12pm).
The fee paid gives the right to three meals a day and accommodation in shared rooms.
Apprentices will receive guidance on the activities to be carried out, ranging from construction, gardening, permaculture, animal handling, maintenance, cleaning equipment, various preparations for the workshops etc. Work to perform these activities requires physical effort, mental concentration, and personal dedication.
During courses and events, the trainees are granted to participate, but at the same time be available for TIBA's needs.
Our space is comfortable, rustic and collective.
Apprentices are responsible for cleaning and maintaining their living space and taking care of their bedding and personal clothing during their stay.
In case of the apprentice's withdrawal during the program, the amount paid will not be refunded.
Dissatisfaction or doubt should be reported in order to avoid misunderstandings.
Even more than being willing to learn a readiness to "unlearn" is expected from the apprentice.
What to bring along:
Personal hygiene items (preferably biodegradable), bath towel, work clothing, work gloves, hat, galoshes, raincoat, flashlight, repellent, bathing suit and hiking shoes; warm clothing during the winter.
Optional:
Bicycle, books, laptop computer, camera and musical instruments.
What not to bring along:
City life habits, animals, illicit substances, city garbage, unwillingness to work (8 hours/day).
Work schedule:
We usually work from Monday to Friday from 7 a.m. to 5 p.m. (with a 2 hour lunch break).
Visitors:
If you would like to receive a boyfriend, friends, or relatives during your stay in TIBÁ, please inquire in advance about the possibilities and costs.
Communication:
In TIBÁ we have cellular signal and Wi-Fi internet.
Access to the city:
The town of Bom Jardim is about 4 kilometers from TIBÁ.
Walking: 40 min.
Taxi: 30.00R$
We often go to town, just keep in touch with us!
The pedagogical proposal involves educational projects focused on bio-construction and holistic living to stimulate young people to work in harmony with nature, being part of a living system of bio-construction and the preservation of natural environments.
The activities proposed during the period stimulate a valorization of manual work, sustainable practices and the contact with the biodiversity of the region. The whole educational program is conveyed in a competent, simple and fun way. The young people would have the opportunity to meet the founder of Tibá, Johan van Lengen, the originator of the concepts and philosophy of this place, as well as get a bit muddy and realize small projects with natural materials like earth and bamboo, soil sciences and the identification and collection of plants.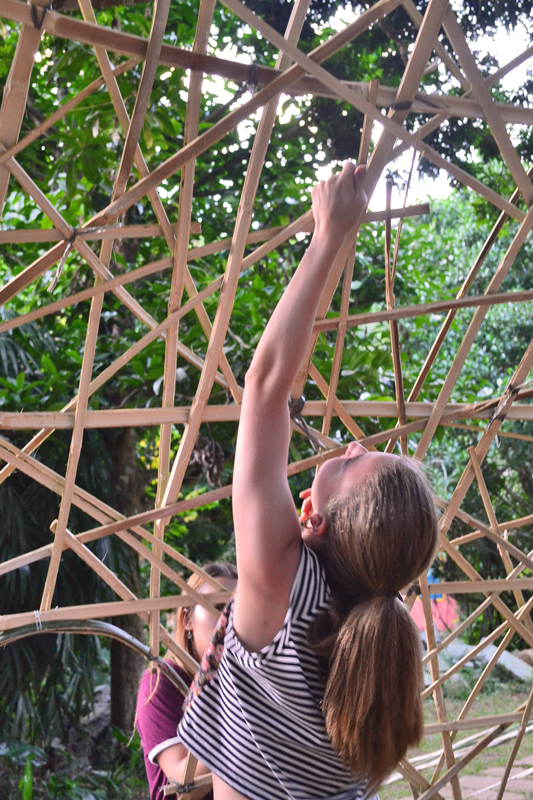 We offer activities in the following themes:
Bio-construction:
manufacturing of adobe's (clay brick)
presentation and practice of construction techniques with earth
lightweight construction with bamboo
painting with natural paints
Permaculture:
agroforestry (concept and basic management techniques)
PANC garden (classification of plants and their collection)
Experience: